Preservation and First Rebuild
This is 2857 in the old 'Top Yard' at Barry some time around late 1974 early 1975, after she had been smartened up with a coat of light green paint slapped over the rust. Funnily enough once the engine entered service the words '2857 Appeal' still tended to appear on the fall plate years later whenever the paint wore thin! Photo Steve Whittaker.
The '28XX Fund' was launched by a group of Severn Valley Railway members in late 1971, when the price of a "second-hand" '28' was £3,500. No. 2857 was selected as being in the best all-round condition out of the fourteen of the class remaining in Woodham Brothers Barry scrapyard. By July 1972 the familiar type of appeal for donations and the purchase of shares had brought in a mere £700, £500 of which had been invested by one shareholder. Evidently '28's' were not on many steam-lovers list of preservation priorities! By the beginning of 1973 the £1,000 mark had still not been reached, but the cost of a '28' was now £4,000, plus £400 for the newfangled VAT. With the price rising faster than the funds were being raised, Lesson One was being learned: sufficient money would not arrive on our doorstep purely as a result of appeals.
After a general meeting decided against winding the scheme up altogether, a sales stand was established and a steady income started to trickle in. Before long, though, the price had leapt up still more, this time to £5,250 + £525 VAT, and a further increase to £6,500 + £650 VAT was scheduled to take place on 1st June 1974.
2857 was made ready to leave Barry by rail in a special working together with Collett Mogul No. 7325. The train is seen here waiting to depart, on 16th August 1975. In the foreground are two of the Society's founders; Steve Whittaker (l) and Paul Burns (r). Photo David James.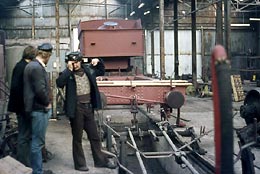 Inside the Stoke on Trent works of Wagon Repairs Ltd with the tender stripped down for overhaul, on 21st January 1977. Left to right are volunteers Paul Burns, Andy Morris and Dai Price. Photo Simon Marshall.
A desperate appeal was sent to all shareholders of what was now the '2857 Society', begging them to buy extra shares, take out standing orders, make donations or give interest-free loans. Happily the response was amazing, and enabled no. 2857 to be purchased on 20th May 1974, just before that threatened price rise. However, another year of fund raising passed before she was moved by rail to the Severn Valley Railway in convoy with Collett Mogul no. 7325, arriving on 20th August 1975.
Over the years we have tried all manner of fund raising schemes, from discos to rail tours, from jumble sales to waste paper collection, but our best commercial venture has been the production of high quality house numberplates in the form of solid brass half-scale GW cabside plates, these being warmly recommended in a review in 'Steam Railway' magazine.
Restoration started in January 1976 at Bewdley, in conditions far more basic than anything now enjoyed at most preservation sites. This work centred on replacing all the boiler fittings and copper pipework, plus the refurbishing of some areas of corroded platework, particularly on the running plate and under the cab floor. All the small boiler tubes were replaced, a 'first' for those days, and a completely new set of boiler cladding sheets was produced. The tender was sent away to Wagon Repairs Ltd. (now Marcroft Ltd.) at the former Kerr Stuart locomotive works in Stoke on Trent for a full overhaul, at a quoted price of £600. This apparent bargain of the century was a case of 'who you know' as opposed to 'what you know', but the final bill actually came out at £2,000. This was a shock to the Society, but with the benefit of hindsight it can be seen still to have been pretty cheap. Regrettably the workmanship subsequently showed signs of corners having been cut. It gave quite a bit of trouble during the ten years the engine was in traffic and was constantly having to be repaired to keep it going. A new ashpan was fabricated in sections and assembled under the loco without the aid of a pit ... it sort of worked!
The cracked area of the original cylinder casting, cut away during an attempted repair in the summer of 1978. Photo Simon Marshall.

Minus boiler cladding and with a leak from the snifting valve gasket, 2857 moves under her own steam for the first time in preservation. Photo Simon Marshall.
While attending to the cladding around the front of the cylinders we made the alarming discovery that one of the cylinder castings was cracked. We investigated a 'cold repair' by metal stitching, but finally took up an offer from Babcock and Wilcox specialist welding division to repair it free of charge, with the job being documented in a publicity film. They set to work and cut away all the area of the crack and its old BR repair. However, their welding proved to be something of a disappointment and cracked again, so they abandoned the job. Somehow we managed to kid ourselves that the crack was in a low stressed part of the casting and so could be ignored.
The only white metalling done was on the big ends, which was made necessary after a couple of our volunteers in a "tired and emotional state" had attempted to extract the bearings at Barry for safe-keeping, using a sledge hammer!
She was first steamed in preservation on 9th September 1979, minus cladding, and was one of five engines returned to steam that year on the SVR, earning the railway the 1979 ARPS Award.
Part 3 - Second Rebuild and Steaming