Second Rebuild and Steaming
The spare cylinder block as found under a heap of coal during the demolision of Briton Ferry Steelworks in South Wales, 1979. Photo Simon Marshall
Shortly before we steamed the engine in September 1979 we had managed to purchase a spare cylinder block which had been discovered under a pile of coke during the demolition of Briton Ferry Steelworks in South Wales. When one considers the quantity of scrap that arrives at a steelworks, the survival of any heavy castings for very long is surprising, but to find the exact castings we needed was utterly incredible. Having said that, they were in a pretty sorry state, but at least as far as we could see they were not cracked.
No 2857 was steamed intermittently through 1980 as various jobs were completed and teething troubles overcome. However, towards the end of the year the SVR decreed that, as a result of some 'near misses' with preserved loco boilers generally, our boiler would have to be brought up to 1980's BR standards. This proved to be a bitter disappointment, and morale fell to an all time low. After a few months of absolutely zero progress we pulled ourselves together once more and started work, this time aiming for far higher standards of workmanship.
Lifting the boiler out of the frames at Bridgnorth on a dismally wet 24th October 1981, ready for a complete overhaul to upgraded standards. Photo Simon Marshall.

After it was decided to fit the Briton Ferry cylinder block it needed to be fully overhauled, and the driver's side half is seen here, on 30th October 1982, being set up for boring the valve chests at Hugh Phillips Engineering Ltd, Tredegar, South Wales. The main cylinder bores had by this stage been completed. Photo Simon Marshall.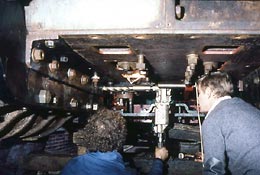 Once the Briton Ferry block had been aligned on the frames it was necessary to drill and ream the 22 bolt holes ready for the fitted bolts. This scene, on 6th November 1983, was typical of the 22 weekends taken over this job. Photo Simon Marshall
With newly machined wheels, axleboxes and re-furbished springs, the frames are finally lowered onto the wheelsets by the SVR 30-ton steam crane on 4th November 1984. Photo Simon Marshall
Once the boiler was fully gutted and de-scaled, the loco was towed up to Bridgnorth where the boiler was lifted out for overhaul by the SVR Company as a 'contract' job. It needed a small amount of copper welding in the firebox, plus all new side stays and tubes as a matter of routine. On the return of the chassis to Bewdley we had another look over those cylinder cracks. The sight gave us cause for concern. Both cylinders were cracked quite badly, with the cracks extending across the smokebox saddle. It looked as if it would only be a matter of time before both cylinders fell off altogether. At that discovery we all took a very deep breath and agreed "We'll fit the Briton Ferry block".
The next job, then, was to prepare that block by removing the jammed up old valves, old cylinder covers, burnt off bits of frames etc. and to sort out a way forward. All the cylinders and valve bores were badly corroded and would have to be machined. After obtaining various estimates for this work we placed the job with Hugh Phillips Engineering Ltd. at Tredegar. The standard of workmanship proved to be superb, though we were less pleased with the way the price kept edging upwards from their original quote. The task of physically removing the original cylinders, held in place by 22 fitted bolts, and fitting the new ones was colossal. Even after aligning the new block in the frames, the job of reaming out all the holes and fitting new bolts took us 22 weekends, an average of one weekend per bolt.
The valves needed new liners. Not much of a job, you may think, but first we had to invent a way of removing the old liners in one piece to enable us to obtain critical dimensions. Then we had to prepare drawings for the new liners, then get pattern equipment made for the castings and finally produce the liners, which had to be machined to a tolerance of one thousandth of an inch. With the benefit of hindsight we have found that these were cast in a fairly low grade of iron; fine for ease of machining, but with a shorter than ideal wear life. The new liners were fitted in July 1983 with the generous assistance of BOC Cryospeed Ltd., who provided us with the liquid nitrogen at -196°C, necessary to contract the liners sufficiently to fit into their respective bores.
The other rather lengthy job was the truing up of the axleboxes and their horn guides. This task took about six months and nearly drove us round the bend, but once in service no. 2857 clocked up 41,000 miles without developing much clanking, so we must have got her about right. The axleboxes were overhauled at Bridgnorth and the new lubrication pads at Swindon, one of the last sets of pads produced there. The suspension and brake gear was completely overhauled with new pins and bushes throughout. The wear in some of the pins was so severe that we decided to introduce grease lubrication to improve matters. This has generally proved successful, but in a couple of locations the locking method on nuts had to be revised to suit. Our modifications here have not been an unqualified success and these nuts have to be tightened up periodically.
Another complication associated with the 'new' cylinders was that all the bores were different from the originals, and so we needed a new set of valves and pistons to fit. Also we realised the valve spindles were badly worn, and had these restored with spiral welding, followed by machining to brand new size. The piston rods were also machined to prevent steam leaks where they had 'waisted' in the middle through wear. The mini crossheads for the valve spindles were also badly worn and again were built up with weld and machined back to size.
2857 returned to steam at Bewdley on 18th August 1985, this time making her appearance in a much more finished state. Photo Simon Marshall.
BR driver Trevor Bethel awaits the signal from Bulmers yard at Hereford at 04-00hrs on the morning of 10th September 1985, before taking the engine and SVR wagons on to Newport. Photo Simon Marshall.
On 10th September 1985, newly restored 2857 rolls her demonstration goods train out of the tunnels on the approach to Newport Station. Photo Brian Dobbs
We had to admit that our 1978 ashpan left a lot to be desired, so we organised a new one, taking the opportunity to design a 'hopper' ashpan, to avoid the unpleasant job of raking the ashes out every steaming. We designed it extremely robustly to avoid problems with heat distortion in service, but all that happened was that it still distorted and then was twice as difficult to straighten out again!
The loco was painted largely in the open air in Great Western 1906 dark green livery, in which she would have been first painted when built. It was surprising how many self-styled "experts" came to tell us it was too dark, imagining Swindon only ever used the 1928 green. Strictly she should only be painted in BR black, as she didn't get outside steam pipes until after nationalisation. We even had one "expert" tell us the numberplates were too low, until it was pointed out to him that they were the original plates bolted through the original holes on the original cabsides!
Needless to say there was a myriad other jobs all around the loco, but we finally lit a fire in her again on 18th August 1985 and the following weekend she steamed over 140 miles in traffic on running-in turns with no trouble at all. We had in fact worked like Trojans almost solidly for six months, and had only just finished the job in the nick of time to be able to accept a unique invitation to take a rake of the SVR preserved wagons to Newport and back over BR metals as part of the GW150 celebrations. This was quite the most wonderful way to come back into traffic that any of us could possibly have dreamed of, and will remain in our memories for the rest of our lives.
Part 4 - Service Experience, 1985 to 1995